The HOTTAP v2 comes in 3 models: HOTTAP Essentials, HOTTAP Outing and HOTTAP Nomad. All kits come with the exact same water heater, gas hose and shower head & hose assembly with magnetic mounting bracket.

As you move up in kits, we don't remove any features from lower kits but only add extra accessories.
HOTTAP Essentials Kit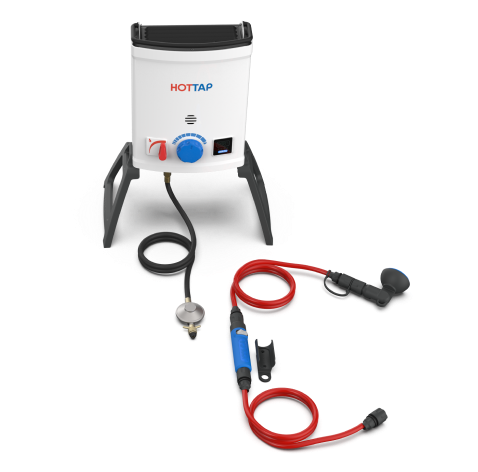 The Essentials kit is best for when you've got ready access to pressurised water, either from an existing pump, mains water, or you plan on setting up your own water supply system.

This kit includes the water heater with portable feet, a gas hose, 5m shower hose & head as well as a magnetic shower head holder.
HOTTAP Outing Kit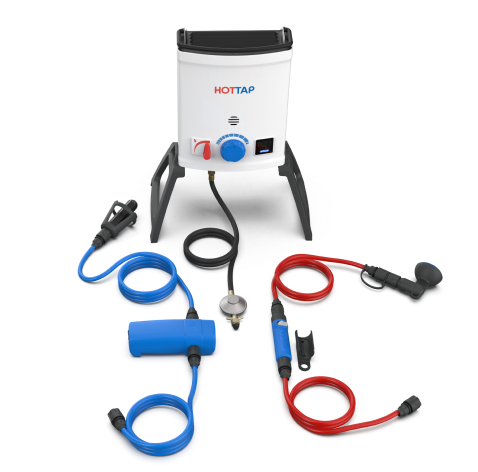 The HOTTP Outing kit includes everything found in Essentials with the addition of a portable 12V pumping kit. This kit allows you to suction from a wild water source like a river or creek (or just a water container) so that you can have flowing water anywhere.

The additional components included in this kit are the 12V pump, suction & outlet hoses, a weighted suction filter and a filter collar (to keep the filter off the ground and not sucking up silt).
HOTTAP Nomad Kit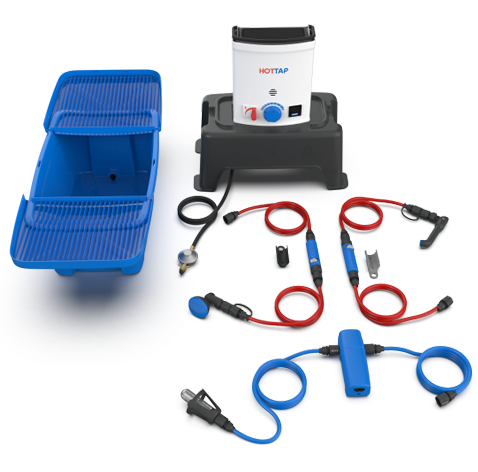 The HOTTAP Nomad kit includes everything from the Outing Kit with the addition of a Blue Storage tub that doubles as a sink. We also include a tee splitter for the water outlet and an additional hot water outlet hose with a Faucet Tap (Spigot) fitting, this attaches to the Blue sink for a luxury dishwashing experience in the outdoors.

Finally, in the Nomad kit, we replace the portable feet with a stand, this stand packs up nicely inside the tub and doubles up as a storage divider to make packing up easier.